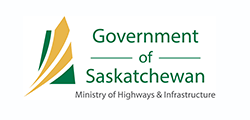 Government of Saskatchewan
WESTAC MEMBER SINCE: 1975
Founding Member
Sustaining Member
SASKATCHEWAN.CA
"WESTAC provides a forum for government, shippers, carriers and other stakeholders to collaboratively work towards solutions to our shared transportation challenges. A coordinated approach is key to achieving the economic potential of the western economy and each individual province."
— Hon. Nancy Heppner, Former Minister of Highways and Infrastructure
The Ministry manages and provides for the future development of an integrated provincial transportation system which supports economic growth and prosperity for Saskatchewan. Saskatchewans vibrant economy is largely driven by exports and the provinces population is dispersed over a vast geographic area. As a result, the Ministry and the provincial transportation system are uniquely positioned to enable economic development and contribute to an improved quality of life for all of Saskatchewans citizens. The primary focus of the provincial government is the Saskatchewan Plan for Growth, an ambitious plan with the vision of a province with a population of 1.2 million people by 2020. The Ministry's core business advances the Plan for Growth and its objectives by focusing on supporting trade and investment, improving safety, improving quality of life for citizens and efficiently managing the transportation system.
Company Facts
---
The Ministry operates 26,154 km of highways, 752 bridges, over 62,000 culverts, 12 ferries, one barge, 17 airports and regulates 13 short line railways operating 2,000 km of track
Major projects recently completed or underway include twinning and passing lanes on National Highway System routes, the Estevan Truck Route, St. Louis Bridge and the Regina Bypass
Saskatchewan's 2013 exports reached $32.9 billion, a more than 70% increase since 2007
MEMBERS
---
Hon. Lori Carr
Minister of Highways
Ryan Cossitt
Assistant Deputy Minister, Policy, Planning and Regulation
Kyle Toffan
Deputy Minister, Highways