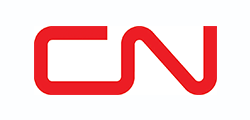 CN
WESTAC MEMBER SINCE: 1975
Founding Member
Sustaining Member
WWW.CN.CA
"As a founding member, CN has always been closely aligned with WESTACs objectives of supply chain excellence."
— Brad Bodner, Director, Corporate Development
CN is more than just a railroad. We are a transportation company that offers integrated transportation services: rail, intermodal, trucking, freight forwarding, warehousing and distribution. By continually growing, CN has reinforced its role as a true backbone of the economy and a key part of the solution in fostering the prosperity of the North American markets we serve. CN handles approximately $250 billion in goods in a year and more than 300 million tons of cargo, serving exporters, importers, retailers, farmers and touching the lives of millions of people every day.
A world-class transportation leader, CN operates the largest rail network in Canada and the only true transcontinental network in North America. CN is North Americas railroad and reaches seventy-five per cent of consumers across the continent. Our network spans Canada and mid-America from the Atlantic and Pacific oceans to the Gulf of Mexico, serving the ports of Vancouver, Prince Rupert, B.C., Montreal, Halifax, New Orleans and Mobile, Ala., and the key cities of Toronto, Buffalo, Chicago, Detroit, Duluth, Minn./Superior, Wis., Green Bay, Wis., Minneapolis/St. Paul, Memphis, St. Louis, Jackson, Miss., with connections to all points in North America.
Company Facts
---
Employs over 22,000 railroaders in Canada and the United States

Has approximately 20,600 route-miles of track in North America, offering rail connections to 3 coasts
Nearly 20% of Canada's export-based traffic moves over CN's network
MEMBERS
---
Doug MacDonald
Chief Marketing Officer
Sandra Ellis
Vice President, Bulk