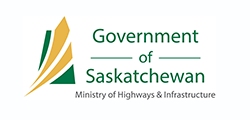 GOVERNMENT OF SASKATCHEWAN
WESTAC MEMBER SINCE: 1975
FOUNDING MEMBER
SUSTAINING MEMBER
WWW.SASKATCHEWAN.CA

The Ministry manages and provides for the future development of an integrated provincial transportation system which supports economic growth and prosperity for Saskatchewan.
Saskatchewan's vibrant economy is largely driven by exports and the province's population is dispersed over a vast geographic area. As a result, the Ministry and the provincial transportation system are uniquely positioned to enable economic development and contribute to an improved quality of life for all of Saskatchewan's citizens.
The primary focus of the provincial government is the Saskatchewan Plan for Growth, an ambitious plan with the vision of a province with a population of 1.2 million people by 2020. The Ministry's core business advances the Plan for Growth and its objectives by focusing on supporting trade and investment, improving safety, improving quality of life for citizens and efficiently managing the transportation system.
MEMBERS
---
HON. DAVID MARIT
MINISTER OF HIGHWAYS AND INFRASTRUCTURE

BLAIR WAGAR
A/DEPUTY MINISTER OF HIGHWAYS AND INFRASTRUCTURE